E-Fat Bike Experiences
Desert cross tours & challenges
A new experience for Dubai residents and tourists
E-Fat Bike Tours
E-Fat Bike tailored events from guided tours to a leisurely cycle through the desert around the lakes.
E-Fat Bike Challenges
E-Fat Bike team building challenges with races, grand prix and activities across the dunes.
Team Building Experts bring you
Bespoke E-Fat Bike challenges and activities for everyone.
Join us for a fun and adventurous morning or afternoon cycling across the desert dunes, circle the lakes, compete in challenges, relay with your team mates or just come along for the BBQ in the desert. 
E-Fat Bike Grand Prix
One of our favourite Team Building activities.
OTHER E-FAT BIKE EVENTS INCLUDE:
E-Fat Bike Desert Crossing
E-Fat Bike Challenges
Challenge your work colleagues or team mates to a morning of biking with a difference.
E-Fat Bike Guided Tours
Guided tours on our E-Fat Bikes across the dunes and around the lakes, 
E-Fat Bike Team Building
Build trust and positivity through a relay race around a cusatom built obstacle course.
E-Fat Bike Desert Safari
The newest version of a desert safari on our E-Fat Bikes, crossing dunes and finish with a BBQ.
What are E-Fat Bikes?
Who can use E-Fat Bikes?
Our E-Fat Bikes have fat tyres with a sturdy frame and a motor to assist when hitting those steep dunes or when your sinking on soft ground and need need that extra push. They are built for crossing sand, snow bog or mud.
E-Fat Bikes are for everyone that can ride a bike and everyone knows you never forget how to ride a bike. Our challenges can be tailored to suit all abilities and capable of crossing all terrain therefore we have the flexibility of using them anywhere. 
There really is no alternative when it comes to Fat Bikes, Electric Fat Bikes are the way forward
Once you ride an E-Fat Bike you'll never go back to a regular bike. A regular Fat Bike is a tough pedal so the electric energy is a superb element to bring to the bikes and make them accessible to everyone. 
Build your confidence to ride all bikes but you'll discover E-Fat Bikes are the most fun
E-Fat Bikes offer more comfort and control so you can enjoy the ride across all terrain. The addition of the electric motor means you don't need to be an athlete to ride the dunes or cross the desert finishing the adventure with a meaty BBQ. 
Increase fitness without limitations, it just doesn't feel like your working out
The motor in E-Fat Bikes does help with challenging terrain particularly below 18kph however you can still get a great work-out in while riding on uncharted territories. 
Go anywhere on an E-Fat Bike, sand, snow, mud... Versatility at its best!
Huge tyres, a fully charged battery, reduce the air pressure and a bag with a little lunch. You're all set to go anywhere from desert dunes to muddy trails. 
Fat tyres mean more comfort while enjoying more control and balance.
Bigger, fatter rubber, lower pressure tyres and the confidence to go anywhere on a bike that doesn't burn all your energy with the assistance of an electric motor for the tough spots.
Videos
Below is a selection of videos taken when we recently went to the desert on our E-Fat Bikes to cross the dunes, cycle around the lakes and enjoy the sunset with an evening BBQ.
"the most fun and enjoyable evening we have had for quite a while. The bikes were super, easy to ride and the variety of settings made the dunes exciting climbs."
"a great afternoon of e-fat biking. We enjoyed every minute of the adventure, finding the flags and meeting the teams at the end to discuss the challenges."
"This was a well organised event and we will be working with Team Building ME for all future events, and activities. Our next event is a team building day, can't wait! "
E-Fat Bike Guided Tour
We set a meeting point in the desert and provide a dedicated zone where we will cross the desert with a tour guide, watch camels and check out some of the bigger dunes with fun games and challenges as we aim towards a final camp destination where we finish with a sunset BBQ. 
E-Fat Bike Grand Prix
Challenge team mates, work colleages or as part of a team building challenge. Change wheels, check handle bars, get the bike ready to take part in a relay. Compete against other teams and your on the clock so the pressure is on as you maneouvre around the sandy and muddy obstackle course.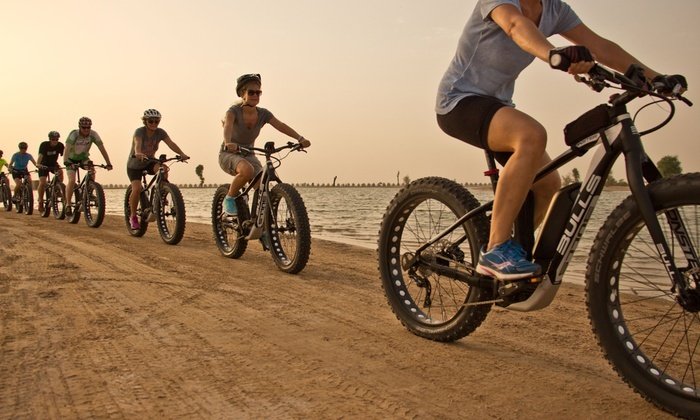 E-Fat Bike Desert Cross
We tailor each desert cross challenge to our participants needs from 3-6 hours in length. Collect flags as you cross the desert and find the points using GPS markings. First to cross the finish line receives the winners trophy and win the title of E-Fat Bike Desert Cross Campion.
Setting goals for a team or a leisurely cycle,
E-Fat Bikes

are great for outdoor activities.
E-Fat Bike Team Building: team games and activities around an obstacle course. You may need to assemple the bike or tackle the dunes, find the flags and reach the final destination first. You need to communicate and push hard to win this challenge. 
E-Fat Bike Tours: enjoy a relaxing cycle across the dunes, visit the lakes and stop for some refreshments in the desert. You get to see camels in the wild and all the sites of the desert. We can add some sand boarding and customise activities to suit your group. 
Don't Wait Any Longer. Start Forging Your Own Path Today!